Introduction to the Ming Tombs
The Ming Tombs are located about 48 km (31 miles) northwest of Beijing at a carefully selected site.
The Ming Tombs site was chosen by the third Ming Dynasty emperor YongLe (1402 - 1424), who moved the capital city of China from Nanjing to the present location of Beijing. He is credited with envisioning the layout of the ancient city of Beijing as well as a number of landmarks and monuments located therein. After the construction of the Imperial Palace (the Forbidden City) in 1420, YongLe selected his burial site and created his own mausoleum.
From the Yongle Emperor onwards, 13 Ming Dynasty Emperors were buried in the area now known as the Ming Tombs. The tombs of the first two Ming Emperors are located near Nanjing (the capital city during their reigns). Emperor ChongZhen, who hung himself in April 1644, was the last to be buried here, but on a smaller scale than his predecessors.
The Ming Tombs form the most extensive burial complex of any chinese dynasty and are one of the finest preserved pieces of 15th century chinese art and architecture. The Ming Tombs were listed as a UNESCO World Heritage Site in August 2003 along with other tombs under the 'Imperial Tombs of the Ming and Qing Dynasties' designation.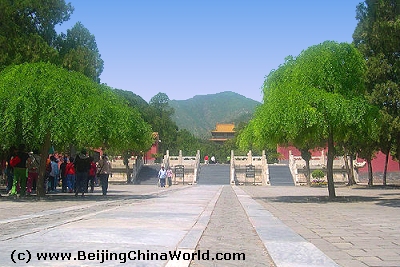 Layout of the Ming Tombs
The site of the Ming Dynasty Imperial Tombs was carefully chosen according to Feng Shui principles. Accordingly, bad spirits and chilling winds from the north must be deflected. An arc-shaped area at the foot of the JunDu Mountains (the southern foot of TianShou Shan) was selected. This 40 square kilometer area - enclosed by the mountains in a pristine, quiet valley full of dark earth, tranquil water and other necessities as per Feng Shui - would become the necropolis of the Ming Dynasty.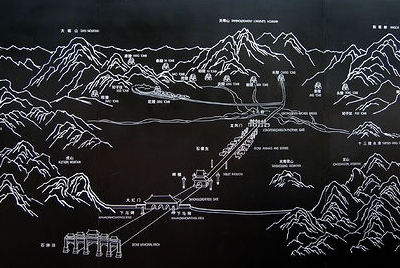 The Ming Tombs are constructed in conventional fashion, with memorial halls at the front and burial chambers to the rear. Indeed, many of the buildings here mirror Ming palaces found in the city.
The entire Ming Tombs site is surrounded by a wall.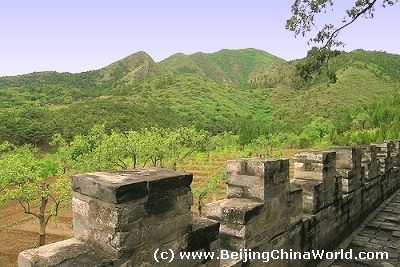 Part of the enclosing wall around the Ming Tombs.
and a seven kilometer road named the 'Spirit Way' (or 'Spirit Way') leads into the complex.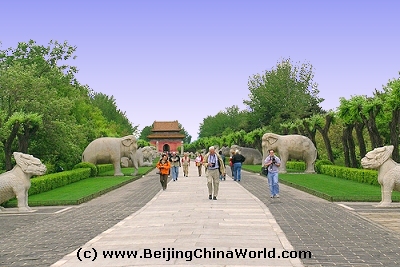 Part of the Spirit Way.
The front gate of the complex is a large, three-arched gateway, painted red, and called the 'Great Red Gate'. Guards were posted here, and no one, not even the emperor, was allowed to ride a horse on these grounds.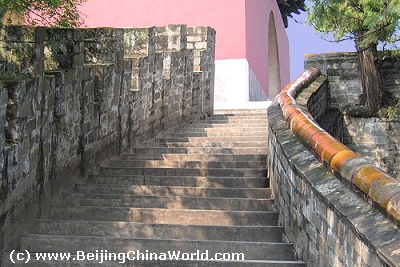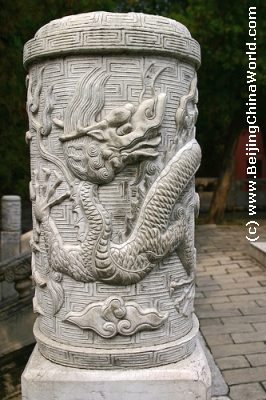 Visiting the Ming Tombs
The Ming Tombs are on the way to BaDaLing Great Wall from Beijing. Sometimes tours will visit both in a day, which means not a lot of time at either although if your trip to Beijing is short, at least you get to see both places.
At present, three tombs have been excavated and restored : Chang Ling, the largest, Ding Ling, whose underground palace is open to the public, and Shao Ling.