Your travel guide to a Beijing holiday
Beijing Holiday Introduction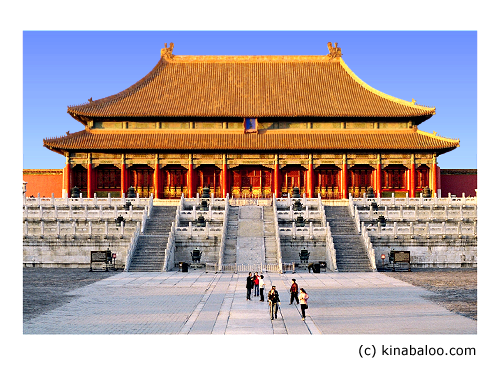 Beijing is one the world's most beautiful and exciting cities, where both modern and traditional blend in harmony. With China soon to be the most visited country in the world, we take a look at what you can do on a holiday or vacation to Beijing; helping you to plan your trip or tour.
Beijing is the capital of the People's Republic of China. The city lies within the Beijing municipality, which is administratively somewhat equivalent to a province and covers 6,500 square miles with a total population of about 18 million. The city has 5 concentric ring-roads, with the historical heart of the city lying inside the second ring road; this is where you will find the Forbidden City (Palace Museum), the Temple of Heaven and Tian'AnMen Square.
Beijing Holiday Travel Tips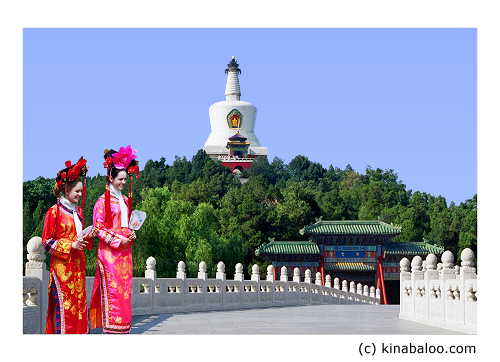 English is fairly widely used and spoken in Beijing. For example, the subway train announcements are in both Chinese and English. Place names are recognisable through pinyin, a system for phonetically representing Chinese in the roman alphabet. However, note that pinyin is not widely understood by taxi drivers; they need to see Chinese script.
The Chinese currency is officially known as the renminbi ('people's money'), abbreviated as RMB; though the term yuan is also common (CNY).
ATMs are very plentiful in Beijing and virtually all accept the main international cards. You can select english at the start.
Subway train tickets are single jouney and cost just 2 rmb no matter the distance or changes of line (except the airport line). The subway system is modern and very efficient; and it is still expanding. Unless travelling to the airport, there is no need to select a destination on the ticket machine; simply select how many tickets you need (how many people), insert the money and press the green 'button' on the screen.
Taxis cost about 2 rmb per kilometer with a starting charge of 10 or 11 rmb.
All China is in the timezone GMT + 8 (with no change for summer-time).
Beijing International Airport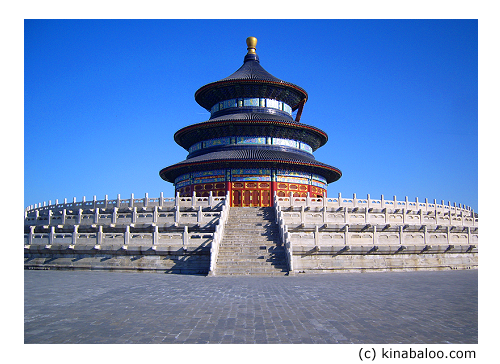 Beijing international airport is very modern and has plenty of conveniences, including places to eat (from full-blown restaurants to KFC), places to sleep (pay by the hour), cash machines, various shops, etc. There are three alternatives for travelling from the airport into the city. First there is the special subway line that stops at SanYuanQiao and DongZhiMen, from where you can transfer to the standard subway lines. Second there are five shuttle buses that take different rutes into the city and loop back again; these are very cheap but can be awkward with heavy luggage. Lastly there are taxis.
A dual language map, which can be purchased in many places, is very useful when travelling around. Keep a few hotel cards with you also, for returning to your hotel. When the hotel makes a copy of your passport, ask for a copy also which you can keep with you rather than the original when out and about.
Beijing Hotels and Hostels
Beijing has a very wide range of hotels, from five star to backpacker hostels
Beijing Holiday Seasons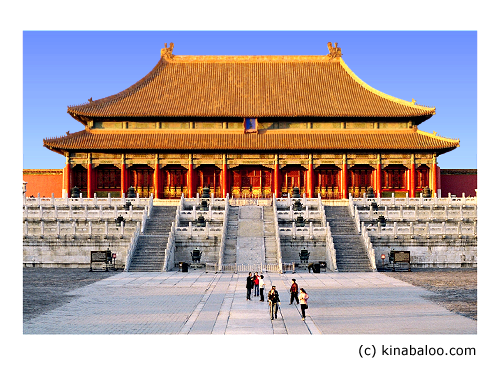 Beijing is interesting in every season.
In winter the lakes freeze over and even daytime temperatures can be substantially below freezing; however, winter in dry and skies clear. Flight and hotels are often cleaper and there are less tourists. A good place to visit is the ice-skating at QianHai and HouHai Lakes, if only to watch.
From the Spring Festival onwards temperatures start climbing. The odd sandstorm might blow in from mid-march to april. Good places to visit include the Botanical Garden (tulips; also has a large conservatory and the Sleeping Buddha Temple - WoFoSi) and YuYuanTan Park (cherry blossoms); both places also have lakes. If in Beijing during the Spring Festival, enjoy the fireworks and visit a temple fair, such as the one at Ditan Park.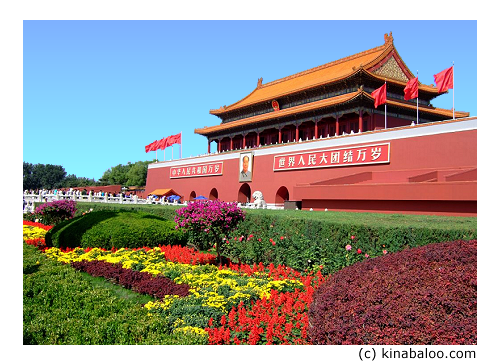 By May temperatures are decidedly warm and in mid-summer can be hot (and can stay over 20C through the night). Good places to visit in the summer include all the many parks; the lotus flowers at YuanMingYuan Park are a popular attraction. One can take a refreshing outdoor swim at ChaoYang Park, QingNianHu Park or TuanJIeHu Park. As the wettest season, there are occasional thunderstorms. A popular attarction in autumn is a trip to see the red leaves at XiangShang (Fragrant Hills) Park. Temperatures remain mild in te day through to the end of October.
Chinese National Holidays
The main national holiday weeks are the Spring Festival (Chinese New Year) and the week around the National Day. The dates for the Spring Festival depend on the lunar calendar but typically it begins at the very end of January to early February. It is the main time for family reunions. The National Day itself is October 1st. During the days around it special displays appear in Tian'AnMen Square.
Traditional Chinese Architecture and Garden Arts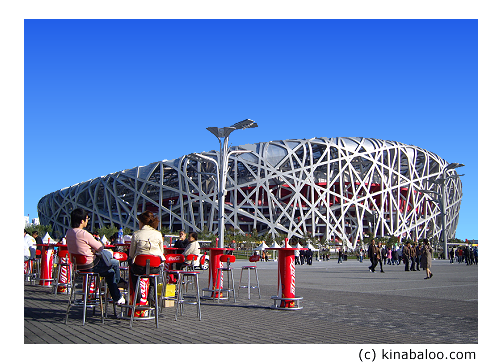 Beijing has over 100 parks whch are all carefully designed and filled with lakes, ponds, pavilions, small hills and other features.
The traditional alleyways of old Beijing known as hutongs. NanLuoGuXiang
historical and cultural sites including the following UNESCO World Heritage sites: the Forbidden City, the Summer Palace, the Temple of Heaven, the Great Wall, the Ming Tombs, and 'Peking Man' archaeological site (ZhouKouDian).
There are also many temples, mosques and churches.
Museums and Galleries
Beijing is home to over 140 museums. Try, for example, the newly expanded National Museum on the east side of Tian'AnMen Square or the National Museum of Art just north of WangFuJing highstreet.
Other Places of Interest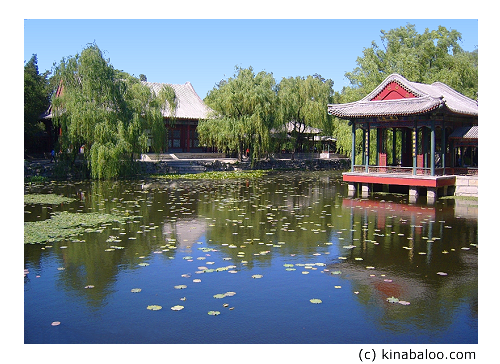 One can visit the giant pandas (and red pandas) at Beijing Zoo, where there is also a world class aquarium.
One can explore the Olympic Park, site of the Birds Nest National Stadium and the venue for the Beijing 2008 Olympics and Paralympics.
The Chinese Nationalities Ethnic Culture Park, a microcosm of China displaying the varied architecture and dance.
The CCTV Broadcasting Tower
The 798 Art Factory Zone at DaShanZi for contemporary art in the setting of a former 1950s industrial site.
Excursions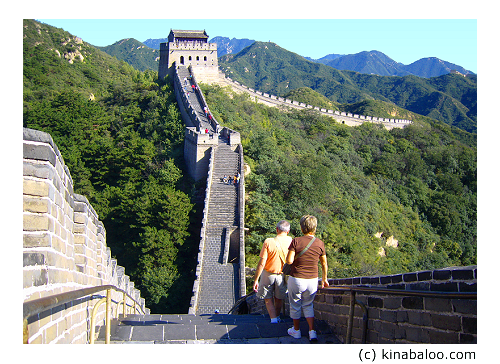 TanZheSi and JieTaiSi - ancient temples nestled in the mountains west of Beijing
ChengDe - a town almost encircled by mountains that conains the former imperial summer retreat and a host of temples (2 or 3 day trip).
ShanHaiGuan (Mountain Sea Pass) in QinHuangDao - where the Great Wall meets the Pacific Ocean - and nearby BeiDaiHe resort. About 300km east of Beiing; linked by rail and expressway.
TianJin - a modern coastal city with historical influences (quickly reachable by a fast train service)
The Great Wall further afield - including JinShanLing and Simatai
Refreshing Valley (waterfalls and lakes)
Miyun Reservoir
LongQing Gorge
ShiDu (a little bit like Guilin)
Skiing or hot springs (in winter)
Dining, Nightlife and Shopping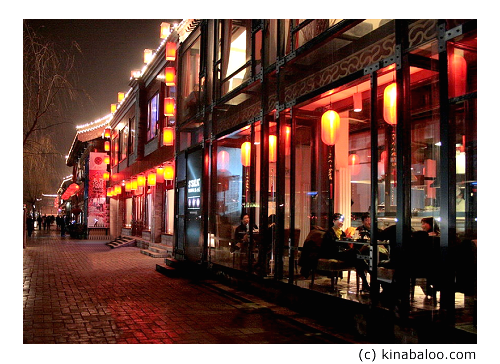 Dining: Beijing duck, hot pot (Shabu Shabu; set menu platter with sesame); the cooking soup can be mild, hot, hot and sour or curry. One might also find the red lanterns and bustling restaurants of Ghost Street an interesting visit.
Night National Center for the Performing Arts (NCPA) / acrobatics / LaoShe Tea House / QianHai or NanLuoGuXiang
shopping, markets to malls ZhongGuanCun PanJiaYuan
Videos of Beijing
[video v=dMEUwcnH28M] [video v=Q1hVrH6hPh4]
Useful Links
Beijing Tourism Hotline
Tel: +86 010 6513 0828 (English language service)
BeijingBuzzz has up-to-date weather, currency converter and translator. Plus thousands of travel videos from all over China.