Photographs taken November 15th 2008
The Birds Nest Stadium and Olympic Park - Introduction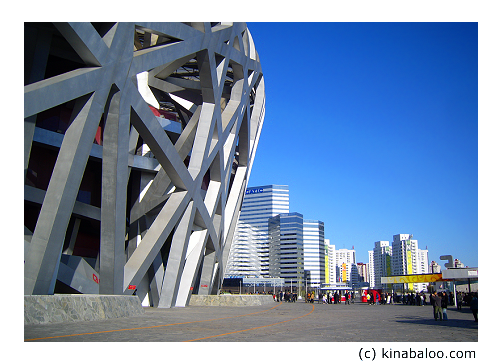 The Birds Nest National Stadium was designed for use throughout the Beijing 2008 Summer Olympics and Paralympics.
The stadium is located in the Olympic Green, on Beijing's central north-south axis on the outer side of the fourth ring road. The Birds Nest stadium cost USD $423 million and required 110,000 tons of steel.
The contract to design the stadium was awarded to a submission from the Swiss architecture firm Herzog & de Meuron in April 2003 after a bidding process that included 13 final submissions. The final thirteen designs were voted on by both a panel of experts and the public; the Birds Nest design won support from both groups.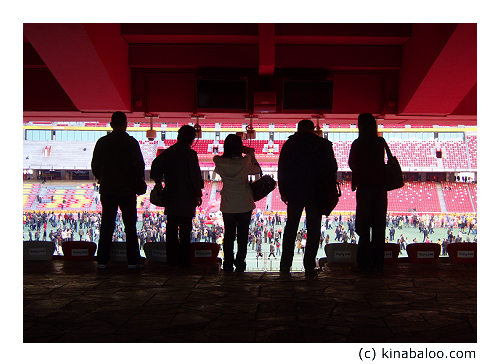 The design of the Birds Nest stadium was a collaborative venture between architects Jacques Herzog and Pierre de Meuron of Herzog & de Meuron, project architect Stefan Marbach, artist Ai WeiWei, and the China Architecture Design and Research Group (CADG) which was lead by chief architect Li XingGang.
The design drew inspiration from Chinese ceramics; in particular the beautiful random patterns of cracks on ancient glazed pots, and also achieved the goal of being 'porous' or open.
The stadium consists of two independent structures, standing 50 feet apart: a red concrete seating bowl and an outer steel frame. What one sees from the outside is the top half of the whole; entering at ground level takes you into the middle tier of the seating. The space between has cafes, restrooms, shops, etc.
Video of the Olympic Park
[video v=e5H4SdRqbRI]
Video taken during October 2010